Aluminium Flat Bar
Author: Time:2023-05-05
Aluminium flat bus bar

Aluminium Flat Bar
We are one of the best Manufactures ,exporters and suppliers of Aluminum Flat Bar, which are highly appreciated for their high durability. Available in several thickness, sizes and shapes, these flats are made from high quality metals and we source them from the authentic and reliable vendors of the competitive market. Our products are provided for automobile, construction as well as engineering industries and these are available within prompt time period to the clients.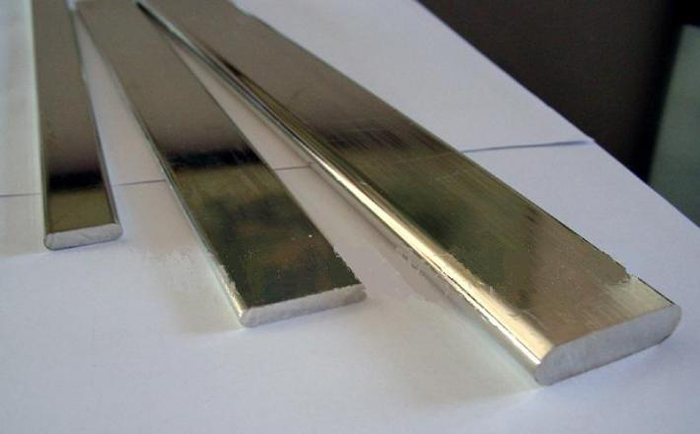 Properties
Aluminium and Copper Specifications
Parameters

Aluminium

Copper

Relevant Standards

IEC 60105
ISO 209-1,2

IEC 60028

Physical Properties
Chemical Composition
Specific Heat gm.cal/℃
Density gm/cm2
Melting Point ℃


0.092
2.91
660

99% pure
0.220
8.89
1083
Mechanical Properties
Ultimate Tensile Strength kgf/mm2
Ultimate Shearing Strength kgf/mm2
Elastic Modulus kgf/mm2
0.2% Tensile-proof Strength kgf/mm2

20.5/25
15
6,700
16.5/22

22-26
16-19
12000
60-80% of tensile strength
Electrical Properties
Specific Resistance ʋʊcm
Volume Conductivity ʋʊmm2
Conductivity % IACS
Co-efficient of expansion mm/m/℃

3.133
31.9
57
2.3*10-5

1.7241
58
100
1.73*10-5
Product Details :
Shapp : flat;
Temper : T3-T8;
Alloy : alloy;
Certification : ISO;
Polished Aluminum profile : Chemical polishing;
length : up to 5000mm;
Height or Diameter : up to 150mm;
Width or Diameter : up to 150mm;
Wall thickness : up to 10mm;
Form : Square,Flat;
Aluminum alloy : 1000 series to 8000 series;
Surface finish : Oxidation, Powder, Coating etc.
Packing way : Best suitable packing way;
Aluminum temper : T3-T6;
Usage : Construction and building;
Export markets : Global;

Mechanical Properties of Aluminum Bus Conductor and Related Alloys
(The Aluminum Association ; ASTM B 236, B 241, and B 429; and Manufacturer's Listings)

Product

Alloy and Temper

Thickness in
Ultimates
Tensile Strength (ksi)
At 20 (68。F)
Typical
Ultimate

Typical Yield

Typical(a)
Elongation
(Percent - in 2 in.
Or 4 Dia)
Minimum
Ultimate
Minimum
Yield
Extruded rod, bar tube,
pipe and shapes

1350-H111

All

8.5

3.5

35.0

6101-T6

0.125-0.500

29.0

25.0

32.0

28.0

15.0

6101-T61

0.125-0.749
0.750-1.499
1.500-2.000
20.0
18.0
15.0
15.0
11.0
8.0

6101-T63
6101-H111
6101-T64
6101-T65
0.125-0.500
0.250-2.000
0.125-1.000
0.125-0.749
27.0
12.0
15.0
25.0
22.0
8.0
8.0
20.0

14.0

11.0

Extruded pipe(c)

6061-T6
6063-T6
Pipe size 1.0 &
over Pipe sizes,all
38.0
30.0

35.0
25.0
45.0
35.0
40.0
31.0
10.0 min
8.0 min

Rolled bar

1350-H12

0.125-1.000

12.0

8.0

14.0

12.0

Sawed-plate bar or sheet

1350-H112

0.125-0.499
0.500-1.000
1.001-3.000
11.0
10.0
9.0
6.0
4.0
3.5

10.0min
16.0min
22.0min
Rolled sheet
(for shearing or forming)
1350
1350-H12
1350-H14

0.020-0.249

8.0
12.0
14.0

12.0
14.0
16.0
4.0
12.0
14.0
20-30 min
4-9 min
3-6 min
1350-H16
1350-H18

0.020-0.125

16.0
18.0

18.0

16.0

2-4 min
2-4 min

Cast Alloy for Bus

1350-F
1050

1 in. And up

8.5

3.5

35.0

Cast Alloy for Fittings

A356.0-T61

37.0

5.0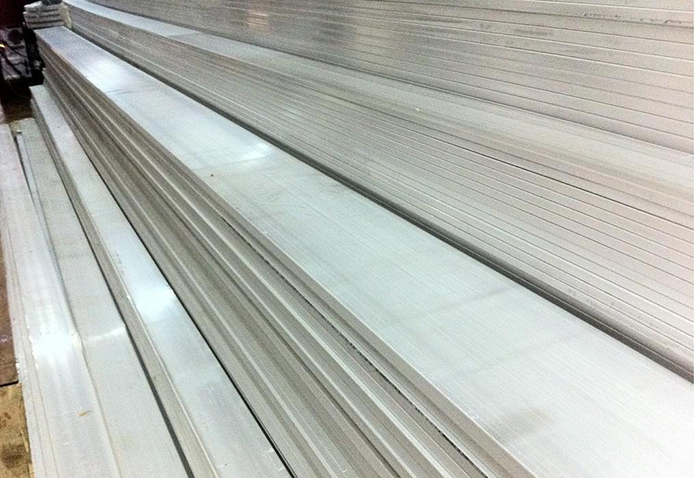 Application Areas:
Petrochemicals plants
Power plants
Printing companies
Fertilizer plants

Features:
Corrosion resistance
Excellent mechanical properties
Dimensional tolerance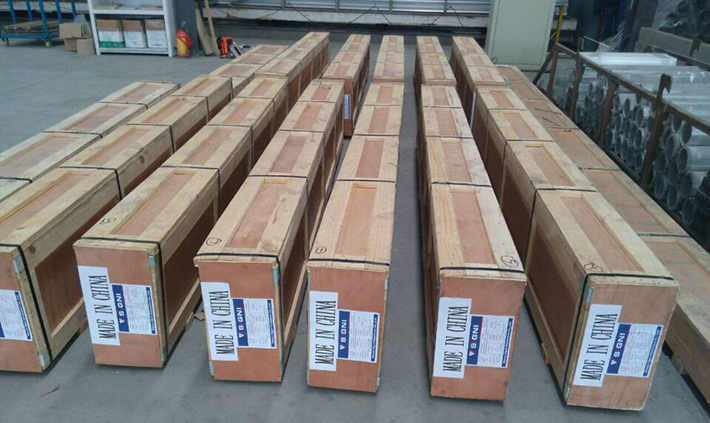 Rectangular Bar

The most common form of bus conductor is bar stock of rectangular cross section. This shape is inherently easy to fabricate, store, handle and erect. A relatively large surface area can be provided for the dissipation of heat by the use of multiple-bar buses. Joints and taps are readily made by either bolting or welding. Off-sets and 90-degree bends are easily made.

For direct current, as well as for alternating current up to certain limits, the capacity of a bus constructed of flat bar can be controlled by merely varying the size of bars or number of bars in parallel. For high-amperage alternating current, however, special arrangements of laminations are used .

Because bars are mare rigid in the direction of the large cross-sectional axis, supports must be more closely spaced to resist load and short-circuit forces that are applied perpendicular to the wider surface.

Round tubular bus conductors are used primarily for outdoor substations and switching structures where long spans between supports are required. The inherent rigidity of a tubular shape in all directions resists wind and ice loads, as well as the forces of short circuits. Since strength is a primary requirement of tubular bus, the higher-strength aluminum alloys are used.

6063-T6 alloy in ANSI Schedule 40 pipe is used widely for outdoor tubular buses because of excellent mechanical and electrical properties and availability. 6061-T6 tubular conductors are used where particularly high strength is desired and conductivity requirements are lower.

For maximum uniformity of mechanical properties at all points of the circumference, tubes are produced from hol low ingot and extruded by use of the die and mandrel method (ASTM B24I). If requirements are less severe, "structural" tubes made by the bridge-die process are often used (ASTM B429). Where tubular bus is to be used for high voltage circuits (230 kV and higher), the smooth surface finish (industry class IV) should be specified, to reduce corona and radio-TV interference.

The round tubular bus is the most efficient electrical shape for an a-c bus conductor because it has the lowest skin-effect ratio of the commonly used types. The current rating is limited, however, as compared with that of flat bar, because of the smaller ratio of heat-dissipating surface area to volume. (See "Skin Effect," , for optimum wall thickness.) Internal cooling of the tube by forced air or circulating coolants overcomes this handicap, but is not often commercially practical except for electric furnaces.

The electrical characteristics of round tubular bus haveled to its use for heavy-duty generator and switching buses in central stations. Since the design of modern isolated phase buses is such that short circuit forces are not a problem, Aluminum 13S0 is preferred because of its high conductivity.

Square tubular bus has low skin-effect ratio,similar to that of round tubes, and has the advantage of requiring comparatively simple adapter plates for mounting the bus On pedestal insulators and the other flat sides facilitate attaching pads for taps. For this reason it is used for generator-phase and station bus, often in protective enclosures. 6101-T61 and 6063-T6 alloys are principally used, and staggered ventilation holes often are provided in top and bottom surfaces.
---