6063 Aluminium Flat Bus Bar
Author:Frank Time:2023-05-05
The chemical composition of 6063 aluminum busbar is the most important part of the production of high-quality aluminum alloys. The main elements of the chemical composition of 6063 aluminum busbars are magnesium and silicon. It has excellent processing performance, excellent weldability, extrudability and electroplating, good corrosion resistance, toughness, easy polishing, coating, and excellent anodizing effect. It is a typical extrusion alloy. Widely used in building profiles, irrigation pipes, pipes, rods and profiles for vehicles, benches, furniture, lifts and fences, etc.
Chemical composition according to EN573-3 (weight%, remainder Al)
Si

Fe

Cu

Mn

Mg

Cr

Zn

Ti

Remarks

Each

Total

0.20-
0.60

Max. 0.35

Max.
0.10
Max.
0.10
0.45-
0.9

Max 0.10

Max 0.10

Max 0.10

Max 0.05

Max 0.15
Alloys and Tempers

Pure aluminum has a conductivity of about 65 percent of the International Annealed Copper Standard (lACS). Aluminum can be produced 99.99 percent pure; however, this purity is costly to achieve and the mechanical properties are low.

Alloy 6063 has been widely used for outdoor high voltage substation buses because of its excellent mechanical and electrical properties and its availability and economy. Where high strength is desirable and conductivity requirements are lower, alloy 6061-T6 bus is used. Where high conductivity is reqnired, with a minimum sacrifice in mechanical properties, alloy 6101 is used in a variety of shapes.
Other aluminum alloys may be used for bus conductors. However, they should be used with care since conductivity and mechanical properties can be greatly affected by small amounts of alloying elements.
Basic info :
Model No : 6063;
Shape : flat;
Grade : 6000 series;
Application : Door & Window, Decorations,Heat Sink,Glass Wall, Transportation Tools;
Temper : T3-T8;
Alloy : Alloy;
Surface Finishing : Mill Finish;
Alloying Ingredient : 6063;
Certification : ISO;
Export Markets : Global;
Mechanical properties according to EN755-2
Temper*

Thickness
e**
Yield stress
Rp0.2 (mpa)
Tensile strength
Rm (mpa)
Elongation
A[%]
Elongation
A50mm [%]
Hardness **
HB

T4

e<=25

65

130

14

12

45

T5

e<=3

130

175

8

6

55

3

110

160

7

5

50

T6

e<=10

170

215

8

6

65

10

160

195

8

6

60

T66

e<=10

200

245

8

6

75

10

180

225

8

6

70
Additional Info :
Trademark : Signi;
Packing : Standard Seaworthy Packing;
Production Capacity : 6000 Tons/Month;
Origin : Zhengzhou,China;
Payment Terms : L/C, T/T, Paypal, Money Gram, Western Union;
Trade Terms : FOB, CFR, CIF, FAS, FCA, EXW;

Physical properties (approximate values, 20℃)
Density
[kg/m3]
Melting range
[℃]
Electrical
Conductivity
[MS/m]
Thermal
Conductivity
[W/m.K]
Co-efficient of
Thermal expansion 10-6/k

Modulus of elasticity [GPa]

2700

585-650

28-34

200-220

23.4

≈70
Features :
heat treatment strengthening, high impact toughness, insensitive to notch. It has excellent thermoplasticity and can be extruded into various profiles with complex structure, thin wall and hollow at high speed, or forged into forgings with complex structure. The surface after processing is very smooth and easy to anodize and color. The quenching temperature range is wide and the quenching sensitivity is low. After extrusion and forging demoulding, as long as the temperature is higher than the quenching temperature, it can be quenched by water spray or water penetration. Excellent weldability and corrosion resistance, no stress corrosion cracking tendency. Among heat-treatable-strengthened aluminum alloys, Al-Mg-Si alloys are the only alloys that have not found stress corrosion cracking. The disadvantage is that after quenching, if it is parked at room temperature for a period of time, the aging will have an adverse effect on the strength (parking effect).
Properties
Aluminium and Copper Specifications
Parameters

Aluminium

Copper

Relevant Standards

IEC 60105
ISO 209-1,2

IEC 60028

Physical Properties
Chemical Composition
Specific Heat gm.cal/℃
Density gm/cm2
Melting Point ℃


0.092
2.91
660

99% pure
0.220
8.89
1083
Mechanical Properties
Ultimate Tensile Strength kgf/mm2
Ultimate Shearing Strength kgf/mm2
Elastic Modulus kgf/mm2
0.2% Tensile-proof Strength kgf/mm2

20.5/25
15
6,700
16.5/22

22-26
16-19
12000
60-80% of tensile strength
Electrical Properties
Specific Resistance ʋʊcm
Volume Conductivity ʋʊmm2
Conductivity % IACS
Co-efficient of expansion mm/m/℃

3.133
31.9
57
2.3*10-5

1.7241
58
100
1.73*10-5
Production Description :
Aluminum Bus Bar
Alloy : 6063;
Temper: H112, F, T3, T4, T5, T6
Thickness: Up to 200mm
Width: Up to 600mm
Length: Up to 6000mm
Specifications:
Ultimate Tensile Strength, psi: 27,000
Yield Strength, psi: 21,000
Hardness: 60
Chromium: 0.1 max
Copper: 0.1 max
Iron: 0.35 max
Magnesium: 0.45 - 0.9
Manganese: 0.1 max
Remainder Each: 0.05 max
Remainder Total: 0.15 max
Silicon: 0.2 - 0.6
Titanium: 0.1 max
Zinc: 0.1 max
Thicknesses: 0.1875" to 4.5"
Widths: up to 6"
Diameter: 0.1875" to 12.125"
Sizes: 0.375" to 6"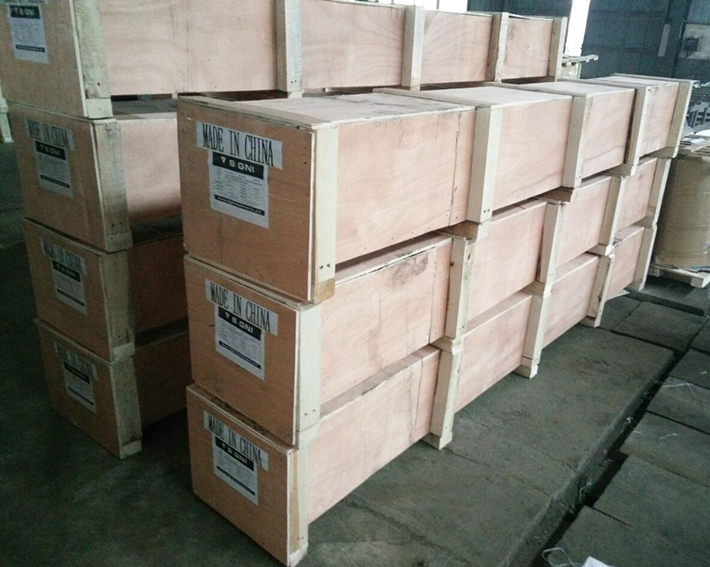 Applications :
Aviation fixtures, trucks, towers, boats, pipelines and other architectural applications where strength, weldability and corrosion resistance are required. Such as: aircraft parts, camera lenses, couplers, marine accessories and hardware, electronic accessories and joints, decorative or various hardware, hinge heads, magnetic heads, brake pistons, hydraulic pistons, electrical accessories, valves and valve parts.
Signi's 6063 aluminum busbar has a glossy surface, no scratches, no bubbles, no burrs on the edges, and tight tolerances. Anodized or electrophoretic coatings are available.w
e are among the topmost manufacturers, suppliers, and exporters of supreme quality 6063 Aluminum
busbar
. These products are manufactured from high quality aluminum, which is obtained from reliable vendors. The offered bars find vast application in various nuclear reactor components, heat treatment furnace, and petrochemical industries. Our logistic professional ensures that these bars are delivered in stipulated time constraint at customers' end.
---
Click to

Download

Signi Aluminium Mould List Table Excel Files :
【
Signi Aluminium Mould List.xls
】
---